Paden Mullens (Lead Guitar, Backing Vox)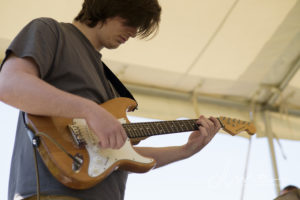 Born and raised in Maryland, Paden has played guitar since he was a child.  His seamless blending of different styles and flexibility of genres, combined with impeccable technique makes for a an amazing auditory experience.  His licks and solos garner awe and applause from audiences.  He joined the band in this past spring and has easily fit into the band.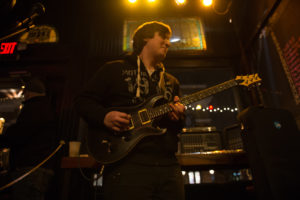 Paden plays both electric and acoustic with intensity and skill, bringing out the nuances of a song and complementing all the band members and vocals. Paden attends Sheffield Institute for The Recording Arts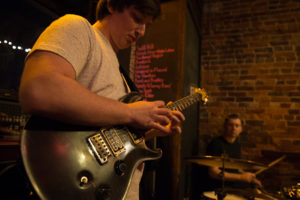 .
Andy Emerich (Drums, Percussion, Backing Vox)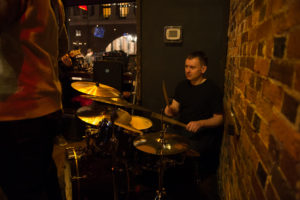 Formerly from Houston, TX, Andy Emerich enjoys performing in a variety of genres as a drummer and percussionist.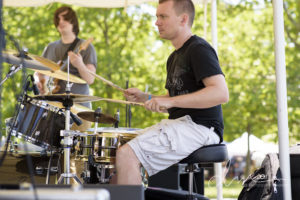 He holds degrees in percussion performance from the University of Texas at Austin and Northwestern University.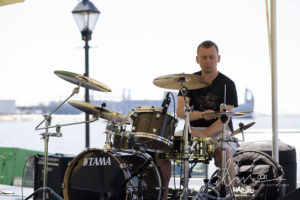 He is also a Staff Sergeant in the U.S. Army where he plays percussion and drum set in the U.S. Army Field Band, the premier touring music ensemble of the Department of Defense.
Brendan Clarke (Bass, Backing Vox)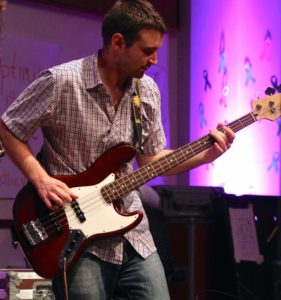 Hailing from Salisbury, Maryland, Brendan has played in local bands since 2007.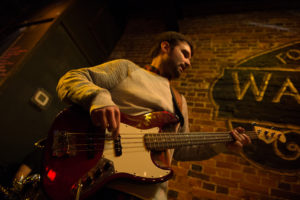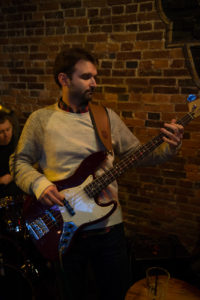 He studied music and history at Loyola university Maryland. He also plays guitar and trumpet.
Currently he plays with Old Eastern and consistently fills in with several Baltimore based bands.
ss, Backing Vox)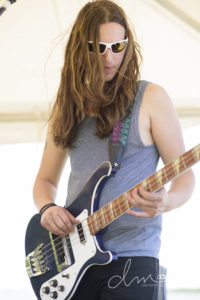 A Maryland native, Shaun began playing bass as a kid. Shaun has multiple projects including The Out of Water Experience (spoken word/hiphop), Whirlwind (formerly Prime & the Suspects) (jam band), Bond & Bentley (alt/indie), CWCR (jam) and Trouble Free Transmission (Led Zeppelin tribute). He's also has run sound for bands and venues.  His isn't limited to one genre and his tastes run the gambit through all kinds of genre.
He has an appreciation for classical music and classics to modern and pop, so long as it is unique, challenging, real music.  He enjoys songs and strives to write music that rides the edge of complexity and simplicity.  He does have an immense fondness for the jam band musicality of Phish which influences his approach to live performances.
Eric Jordan (Drums)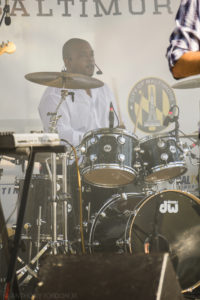 Eric has been a drummer/percussionist for 23 years and is a current Working Artist with Scorpion Percussion.  His background in marching and concert percussion allow him to add a different feel to the band through playing and songwriting.  He currently plays with local Baltimore band, FireKite, local musicians, church bands and the Baltimore Ravens Marching Band.
Eric is influenced by Dave Matthews Band drummer Carter Beauford.  "Carter is a "busy player" which really fascinates me and got me into DMB and honing my craft.  In my mind, and I think in Carter's as well, I hear something that should be played and go with it.  Whether it be a fill, cymbal crash, or just a change in rhythm or time signature. My mind keeps going and I never want to have any gaps in what I'm playing. It also gives me a chance to show my versatility of being able to just sit in the pocket and play a simple groove."  Eric plays on Yamaha drums and Trexist cymbals.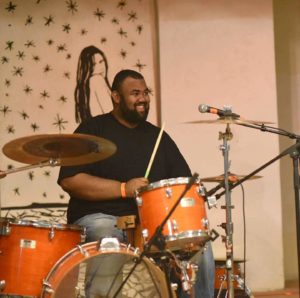 Like many, Jamaal's exposure to music started at a young age watching the drummers at his local church.   Determined to make an impact on his newfound love of music, he honed his ability by playing in multiple school bands, The Baltimore Marching Ravens, and studying music theory.  He also drew great inspiration from drum greats such as Questlove, Dennis Chambers, Vinnie Colaiuta, and Carter Beauford.   After establishing himself in the local gospel music scene, he ventured out and joined an original acoustic band to gain valuable industry experience and make a name for himself in Baltimore's music scene.
Jamaal has played behind many of Baltimore's "up and coming" and established artists such as the Silent Tales Trio, Sympli Rhythmic, Michele McTierney and currently tours and records as a full member of the indie rock band Underlined Passages.  His contribution of clean pocket and discipline is present on their critically acclaimed 2016 album "The Fantastic Quest".
Jamaal has recorded with renowned producer Frank Marchand at industry-recognized studios such as Marchand's, SB studios, and ZeroVu Recording studios.  Whether its huge experiences like South by Southwest (SXSW), The Joseph Meyerhoff Symphony Hall, or well-known intimate places like New Jersey's Wonderbar or New York City's Piano's and Gussy's Bar, Jamaal cherishes every experience that his gift has afforded him. Jamaal Turner plays 1710 Percussion Drums, and Scorpion Percussion Drumsticks.
________________
PHOTO CREDITS:
Paden, Andy, Shaun – Photos by: Deb Mattoso www.deboramattoso.com/
Baltimore Wine Festival (June 18, 2016) Canton Waterfront Park (Baltimore, MD)