The Seen & Heard Creative Open Mic is a bi-monthly showcase of music and art hosted by Michele McTierney.  All musicians and artists are welcome to perform and display their music and art. All kinds of art and music genres are welcome, music, painting and all visual arts/photography/film, performing arts/theatre/dance, spoken word, poetry/short stories, comedy and more.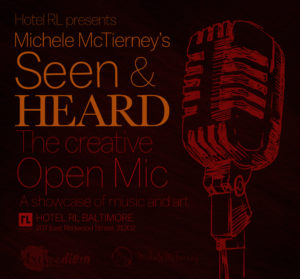 The mission of this event is to serve real music and art by home-grown up-and-comers spanning all arts.  The show provides a safe haven to receive feedback on their work and live performance, as well as provide an opportunity to network, share and learn from fellow artists and music industry experts. Admission is free.
Show starts at 7:00pm. There are no reserve spots or pre-booking. Spots are granted on a first come-first serve basis. The sign-up sheet is available starting at 6:30 pm and each performer/artist can perform/present up to two (2) songs/works or 10 mins (whichever is less). Visual artists can discuss their work and inspiration and/or create a visual piece in front of a live audience. All performers are welcome to bring their merchandise to sell at the event.
Whether you are just starting out, are an established artist, industry expert or just an art and music enthusiast, come out to support local talent and experience the amazing creativity of Baltimore!
Extended information: