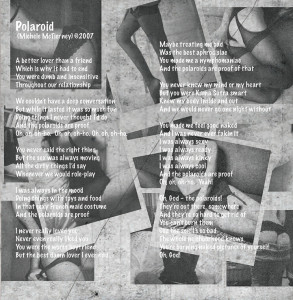 Polaroid (Michele McTierney) (c) 2007
Verse 1
A better lover than a friend
Which is why it had to end
You were dumb and insensitive
Throughout our relationship
We couldn't have a deep conversation
But while it lasted it was so much fun
Doing things I never thought I'd do
And the polaroids are proof
Oh, oh, oh-ho. Oh, oh, oh-ho. Oh, oh, oh-ho.
Verse 2
You never said the right thing
But the sex was always moving
All the dirty things I'd say
Whenever we would role-play
I was always in the mood
Doing things with toys and food
In that sexy French maid costume
And the polaroids are proof
Chorus
I never really loved you
Never even really liked you
You were the worst boyfriend
But the best damn lover I ever had
Maybe treating me bad
Was the best aphrodisiac
You made me a nymphomaniac
And the polaroids are proof of that
Verse 3
You never knew my mind or my heart
But you were Kama Sutra smart
Knew my body inside and out
And we would never go one night without
You made me feel good naked
And I was never ever fakin it
I was always sexy
I was always ready
I was always kinky
I was always cool
And the polaroids are proof
Oh, oh, oh-ho. Yeah!
Outro (verse)
Oh, God – the polaroids!
They're out there, somewhere
And they're so hard to get rid of
You can't burn them
Cuz the smell's so bad
The whole neighborhood knows
You're burning naked pictures of yourself
What would my Dad think?